Combining the inner strengths of mind body and soul with the beauty that surrounds us in Dalyan, Volkan's Adventures is working exclusively with Spectrum Turkey to bring you an unforgettable opportunity.
Combined in perfect harmony, experience the treasures of spiritual peace and soul lightening dance like never before. Set in the stunning grounds of Spectrum Turkey in partnership with Volkan's Adventures, we bring you the opportunity to spend a week synchronising your mind body and soul as yoga takes to the floor with its perfect partner, the Tango. Using Vinyasa Flow and Power yoga united with Valse and Milonga Tango, our expert instructor will work with you over the course of the retreat to release inner tensions, improve stamina and flexibility, and re-energise your spirit.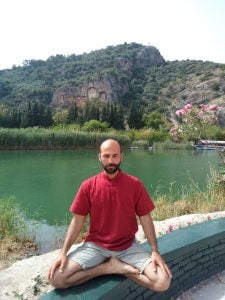 Vinyasa yoga and milonga tango are perfectly matched as they mirror each other in their main focus areas. Both are executed at a slightly faster pace with the transition of the movement sequences linked by rhythm and breath control. These two art forms require the routines to gracefully flow in a seamless motion, greatly benefitting the cardiovascular system and mental core. Power yoga incorporates many elements of vinyasa however is practiced with a focus on strength, flexibility and spontaneity, which will once again offer the tango the perfect compliments.

Who Are We?

Built against the breath-taking backdrop of Dalyan, Turkey, Spectrum is an all-encompassing healing retreat specially designed to accentuate positive energy and mindfulness.  Built on 6300 square feet of land, Spectrum offers their guests a unique opportunity to embark on a journey like no other. Featuring a custom designed meditation labyrinth, outdoor swimming pool, fruit orchards, karma kafe, massage and therapy suite and spacious yoga shala, this venue is the perfect setting for this week of self-discovery. On site accommodation comprises of fully furnished both single and double en-suite rooms  and a stunning dining area providing home cooked traditional Turkish meals using produce grown at the retreat. Referred to by spiritualist healers as having a magical energy surrounded by angels, Spectrum Turkey will embrace you as a guest but you will leave as a friend.

As the number 1 rated tour operator in the whole of Dalyan, Volkan's Adventures offers their guests unique and extraordinary once in a lifetime experiences to give you an insight into the hidden wonders Dalyan beholds. We cater for exclusive groups of likeminded people providing you with unforgettable off the beaten track adventures. As part of this retreat we will show you the stunning Gocek 12 Islands on our luxury Mediterranean gulet, as well as the glorious yet little known sights to marvel in the Dalyan area via our two tiered opulent river boat. Both our vessels are fully manned with captain, crew and professional guide, ready to meet your every need.

Where Are We?
Dalyan is a small yet perfectly formed town on the South West Coast of Turkey, 25 minutes journey from the main airport of Dalaman. With the river running through the town and the mountains ever present in your view, this town will capture your heart. Ancient Lycian tombs nestle in the mountains, Caretta Caretta turtles swim by as you sit; the world famous breeding ground of these incredible creatures Iztuzu Beach is merely a short boat ride away. Full of life and love, Dalyan is a little piece of heaven just waiting to welcome you.
What Do We Offer?
As an additional element to the retreat, there are some specially chosen workshops infused into the program which are perfectly matched to the intrinsic theme of the week.
Relaxing and mesmerising, Ebru Art is a traditional Turkish art of paper marbling using paints, oils and unique sets of tools and implements.
EFT Tapping is a soothing technique used to rebalance the energy of the body and mind and is highly effective in reducing stress and anxiety
Dependent on the ability and preference of the group, the yoga taught may be solely Vinyesa Flow or Power Yoga, or may encompass a mixture of both, and dance workshops will focus on Valse, Milonga and Tango.
The program for this retreat is as follows:
Monday:
Arrival at Spectrum
Group Welcome Meeting
Free time dependent on arrival time
Evening Meal
Tuesday:
Morning yoga session (60-90 minutes)
Breakfast and Evening Meal at Spectrum
Free time during the day
After Dinner Dance session (90 minutes)
Wednesday:
Breakfast at Spectrum
Volkan's Adventures Beyond the 12 Islands boat excursion (10am – 5pm)
Free time for Evening Meal
After Dinner Dance session (90 minutes)
Thursday:
Breakfast at Spectrum
Morning yoga session (60-90 minutes)
Free time for lunch
Afternoon Ebru Art workshop (optional)
Evening meal at Spectrum
After Dinner Dance session (focussing on relationships therapy relating to tango)
Friday:
Breakfast at Spectrum
Free time for Lunch and Evening meal
EFT Tapping Workshop (optional)
After Dinner Dance session (90 minutes)
Saturday
Morning yoga at Iztuzu Beach (60 minutes)
Volkan's Adventures Dalyan Classic boat trip (including breakfast and lunch)
Evening Meal at Spectrum
After Dinner Dance session (90 minutes)
Sunday:
Breakfast at Spectrum
Morning yoga session (60-90 minutes)
Free time
Farewell Party at Spectrum (including dance, wine tasting, live music and evening meal)
Monday:
Costings
Single occupancy: £595
Shared room: £545 (per person)
Please contact us for any questions you may have or assistance you may need.
Looking forward to seeing you this summer 🙂