Cadianda is one of those Turkish gems. A ruined city, that in any other country, would be awash with tourists. In Turkey, it sits on top of a mountain with scarcely any visitors. The wealth of history that litters the countryside never fails to amaze me. For the bargain price of £1 you can walk around a 3000-year-old city and witness spectacular mountain views.
Cadianda is less than an hour's drive north of Fethiye. Perched on the side of a mountain overlooking the picturesque village of Üzümlü.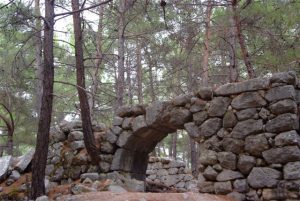 It isn't easy to find and the road up to the site isn't great but I would encourage you to persevere. Once you get to the site there is a very well-marked trail. However, there are large holes and wells around the site so it is very important that you do stick to the path.
Then you will climb a fairly steep hill and you will pass the vaulted tombs of the necropolis. The trail then leads you close to the remains of the city wall before you reach a false summit where there is a long, partly preserved agora, and your first stunning views of Fethiye.
The site's highlight is at the highest point: a long, narrow stadium, with seven rows of seats surviving. Steps in the seats climb to a huge jumble of masonry, all that remains of a temple to an unknown god. There is a fenced off cistern that is potentially quite dangerous. Don't be tempted to enter the area. There are very deep and large holes in the ground.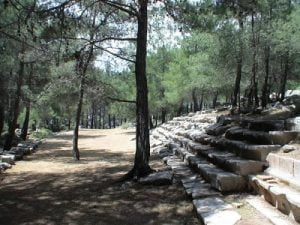 Roman Baths
On the opposite side of the stadium stands a substantial Roman bath. Past the Roman baths, you will see the most spectacular view. The valley and Uzumlu lie below you, forests and snow-capped mountains to the front and then Fethiye and the sea beyond. A 360-panoramic vista, this alone is worth the climb. Crossing the top of the site you look down into an amphitheatre. The main seating area is intact with the centre under soil and rubble. Even so, it is an impressive sight. This still being excavated so more and more is being gradually uncovered.
The rest of the path leads back down to the car park. The whole journey takes about an hour.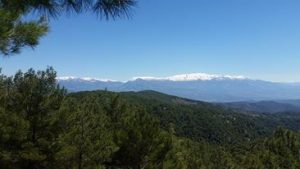 Whilst I was there I probably saw 5 other people, bear in mind that this was a beautifully warm Sunday in April. Even in the height of the tourist season it does not get busy. However, the paths are not great and some of the climbs are quite steep but it is well worth hunting out.
Cadianda manages to retain it's peaceful, abandoned charm.