This is more than just a Persian soup. It can make a very filling meal and is a great way to use up vegetables and pulses that might otherwise be thrown away. I hate waste! Alternatively, visit a local market and try out some vegetables that you have never seen before. Visit a Turkish market with us and you will probably see vegetables and greens that you have no idea what to do with.
The original recipe is actually Persian but there aren't really any strict rules. Use whatever you have in the kitchen.
For 4 people
olive oil
750g potatoes peeled and cut into chunks (use a waxy type that won't break down)
2 large onions finely chopped
2 cloves of garlic
3 large carrots, peeled and chopped
1 butternut squash, peeled and chopped
4 large tomatoes, chopped (you can use a can but drain away some of the liquid)                                                                  1 courgette, chopped                                                                                                                                                                         1/2 celeriac, peeled and chopped                                                                                                                                                         1 tin of beans                                                                                                                                                                                            1 tin of chickpeas (Keep back half of the tin)
1 teaspoon of cinnamon
1 tablespoon of Turkish pepper paste                                                                                                                                                 1 tablespoon of ground cumin
sea salt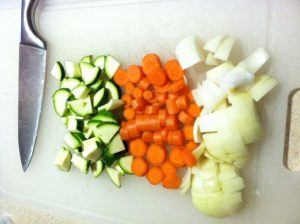 black pepper
100g   feta cheese                                                                                                   1 1/2 pints of chicken stock (homemade is best)
For the herb oil
6 tbsp olive oil
good handful flat-leaf parsley
good handful dill
pistachio nuts handful                                                                                           half an onion finely sliced
lemon juice squeeze
In a large saucepan heat some olive oil and then add the potatoes, onions, garlic, carrots, butternut squash and the celeriac. Saute until they start to soften but not to turn brown.
Add the spices and pepper paste and mix well. Add the chopped tomatoes and cook for 2 minutes. Add the courgette and beans and half the tin of chickpeas.
Add the chicken stock making sure that all of the contents are covered in liquid. Simmer for 20 minutes. After 20 minutes check that the vegetables are nice and soft. Season to taste. Turn down to a very low simmer whilst you make the herb oil.
In a heavy frying pan heat the remaining oil. Fry the sliced onion until caramalised. Add the remainder of the chick peas and fry until golden. Carefully add the pistachios, flat leaf parsley and dill. Heat for a 30 seconds. You want the herbs to wilt but retain their colour.
Ladle the soup into large bowls then add the herb oil, a generous squeeze of lemon juice and crumble over a small amount of feta cheese.
Serve with some fresh bread. I also like a dollop of yoghurt on mine but that is personal preference!