A fertile region between the two volcanoes – Hasan Dagi and Erciyes Dagi, lies the region of Cappadocia. Known as Cappadocia in the ancient times, at present it is informally called the Kapadokya. The town lies to the east of Konya, and is surrounded by the Nigde in the south, Kirsehir in the north, Kayseri to the east and Aksaray to the west. There is a mention of Cappadocia as a large and important Roman province in the Bible`s New Testament. However, this Central Anatolian region has been important since Hittite times, long before the time of Jesus.
Cappadocia is the cradle of one of the oldest civilizations of our world and the birthplace of many mysteries and legends, almost as if it is not real. Any travel lover would surely love to explore this fantastic place.
The Cappadocians have an exotic and varied lineage to boast of and claim an ancestry from almost all of the powerful tribes of Asia and Europe. They vary right from Assyrians, Ancient Anatolian tribes, Hittites, Turkic tribes from Central Asia, Phrygians, Slavs, Persians, Syrians, Arabs, Kurds, Romans and Western Europeans, Armenians, Greeks to Mongols.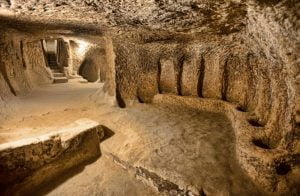 The tourist spots in Cappadocia are almost unlimited and each of them is equally important. A major crowd puller to Cappadocia is its "Underground cities", there are thirty-six of them that has been discovered so far. These shelters were temporary rather than permanent places to stay and the main two are at Kaymakli and Derinkuyu. Amongst debating archaeologists, these caves have been dated to about 1200 BC. The cave dwellings show remarkable architectural sense and planning.
The rock cut churches and monasteries were developed by the Christians from the cave dwellings and they are also situated deep underground. These excavations have reached down to about 85 meters, or until the water level has been reached, and are marked with efficient ventilation systems. There are many settlements in Cappadocia that were established primarily as ascetic communities following the rules mentioned by Bishop of Caesarea Mazaca in the 4th century, St. Basil the Great.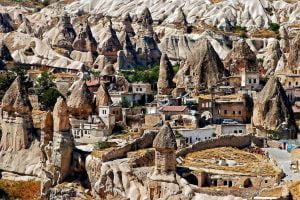 Goreme Valley is famous for its churches and these churches followed the rules laid down by St. Basil the Great. In fact it was under his guidance that the first churches of Goreme Valley were built. Presently the Goreme Valley with its numerous small communities having their own churches forming large monastic complex serves the purpose of the Open Air Museum.
The most striking monastery in Cappadocia is the Eskigumus Monastery, its main church is roomy and well ventilated, but the main point of interest lies in its well-preserved frescoes that are considered the best representative of Byzantine art in all of Cappadocia.
One of the most popular things to do when in Cappadocia is to treat yourself to a hot air balloon ride. You will see the landscape in all of it's breathtaking glory and marvel in the beauty that surrounds you as far as the eye can see. There are several tour operators that offer these flights so research before you visit for the most competitive deals.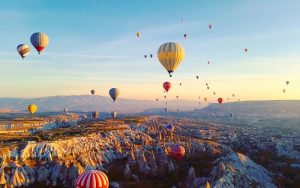 From Dalyan to Cappadocia there are two ways you can travel. By air you can fly from Dalaman airport (DLM) to Istanbul Sabiha Gocken (SAW) and then onto Kayseri Erkilet (ASR) and then bus or taxi to the centre which is about 75kms. This may sound like a real journey but flight times are short so if you organise your travel well you can complete the journey in approximately 6 hours. By road you can get the dolmus from Dalyan into Ortaca and then a bus directly to Goreme. This journey is much longer at around 13 hours but if you prefer not to have to fly or worry about making connections then this would be more suitable. For more information on the Dalyan dolmus – how and where to catch it and their frequency, please visit our Transportation Guide.