Alan Fenn and his partner Janet have lived in the village of Okcular for the past 20 years. He is the author of 'Okçular Village – a Guide' and 'Backways & Trackways'.
Alan Fenn's  books are for the sole purpose of generating an income that can be spent on environmental and community projects in Okcular, one of the villages that surround Dalyan.
So far, the books have provided a new playground and the transformation of Okçular Primary School by painting murals on all of the buildings. This has drawn attention from national media and the school featured in the 2011 Polisan Paints Catalogue, a singularly impressive endorsement.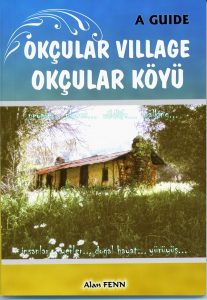 Following the painting the next project was to restore a beautiful old garden chess set and build a new outdoor playing board for the school chess club. There is also an ongoing Photo Archive which aims to preserve and propagate as many of the old photographs of Okçular and its people as possible.
A recent project has been to paint murals on the new village centre and plant native trees at selected places around the village.
On 24th May 2012 the school was donated racks for 20 bikes; a Wi-Fi modem that covers all the classrooms; 2 toner packs for worksheets; and six sets of books for each of the classes.
At the end of school year in 2013 an early lunch for every child and teacher was provided, minibuses took everyone on a fabulous educational trip to the DEKAMER Turtle Rehabilitation Centre at Iztuzu Beach, Dalyan.
More recently the project funded a complete and comprehensive science equipment cupboard and a watering system for the gardens.
All these projects are funded by the books. A donation of 15 to 20tl will buy you a book.
The 'Okçular Village – a Guide' has something for everyone. There's village history, some stories from our old folks and some walks around the area complete with accurate, hand-drawn maps and lists of flora and fauna. Each page has English and Turkish text so it is a useful tool for those learning either language. The book is a jolly good read, it is printed on good quality paper to enhance the many photos and it is stitched for security. All-in-all it makes a great keep-sake or gift and you get that great feeling that comes from supporting a really worthwhile cause.
In February 2011 a new, high quality guide of walks and cycle rides was published. 'Backways & Trackways' gives a definitive guide of the area. Although now out of print it is available for download as a pdf from Alan's blog "The Archers of Okcular". There is a PayPal donation button so that people can choose to donate something/whatever they choose for the project they run with the children in Okcular village.
TIP: You can also read more about great trekking routes around Dalyan here
PS: Due to technical problems, Alan's blog "Archers of Okcular" is no longer available. If you need more information or need to download his books, please contact us.