Last week I spent a perfect Saturday horse riding in Dalyan. I have loved horses and riding since I was a child. Weekends were always spent tearing around the countryside or mucking out stables.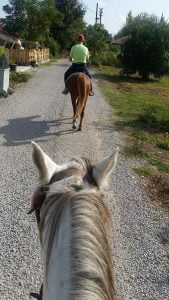 This was the second time I had ridden in Turkey and it is perfect. We set off from a smallholding, in the village of Eskiköy. The horses were very well loved and cared for.
We followed a trail that led through the village and up a steep mountain track. After apprximately 90 minutes we reached the summit of the hill. Before us stretched Köyceğiz lake to the right and the town of Dalyan and Iztuzu beach to the left. After a snack of freshly picked pomegranates and mandalins we set off again. The going was sometimes rugged and steep but these tough little horses are built for this climate and terrain. They are Turkish Rahvan horses. An ancient Turkish breed.
This is the perfect way to see the Turkish countryside, animals seem to ignore you if you are on horseback and children are always pleased to see you! We travelled through fields of pomegranates and oranges, through villages and farms until we arrived in Tepearası. We had arranged lunch at a family house in the village. Refuelling for humans and horses alike.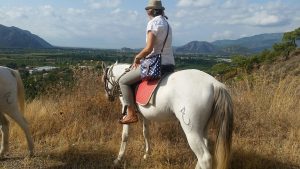 After lunch we explored Tepearası village and the surrounding farms. This was pomegranate picking season so wherever we went we were greeted by fruitpickers! Tepearası and Eskiköy are beautiful areas. Completely untouched by the tourism of the larger towns.
To me, this is the perfect day. There is something about being on a horse in the countryside that soothes the soul. I would happily spend every day like this, although my legs the following day might argue!