Now is the time of year that Turkish families begin to stock up for winter. If you visit the small villages around Dalyan you will see village life in full flow. Vegetables are pickled , jams and chutneys are cooked. Plum chutney is the perfect way to use up fruit before it spoils.
Plum Chutney
This plum chutney is delicious with cheese and biscuits , cold meats or in a sandwich. Try it on courgette fritters. Plum chutney also makes a delicious addition to a Christmas table, goes well with turkey and ham. Alternatively you could package in pretty jars and give as part of a homemade hamper.
Recipe
1lb of sugar
2 pints of malt vinegar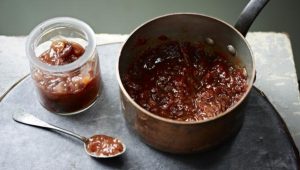 1lb of apples. Diced
3lb of plums. Stoned and quartered
1lb of onions . Diced
1/2lb of raisins
1/b of carrots. Diced
2 table spoons of salt
2 tea spoons of each ground cloves , cinnamon , ginger and allspice.
Method
Start by getting all of the ingredients ready. Next dice the fruit and vegetables. Put the sugar and most of the vinegar in a pan and bring to the boil .  Add all of the fruit and vegetables . Next mix the salt and spices into the remaining vinegar and stir into the ingredients in the pan. Bring back to the boil and simmer until a thick consistency , because the apple will act as the thickening agent no pectin is required. Spoon into the sterilised jars, seal and label. This plum chutney is at its best after a month or so. This gives the vinegar a chance to mellow. It will keep for 1 year in a cool place but once opened store in the fridge and use within 2 months.