"Hail O exalted Leto

Mother of these resplendent children, happy mother

Who gave birth to king Apollo and Artemis the Archer"

– Homer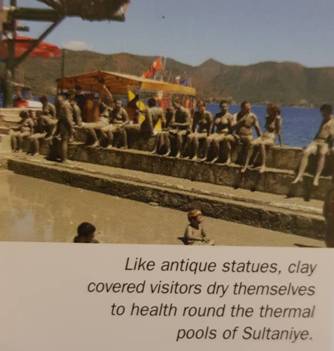 Archaeological research has shown the existence of an ancient sanctuary dedicated to the Goddess Leto in the vicinity of the Sultaniye thermal springs. According to Greek myth Leto, daughter of the Titans Koios and Phoibe, gave birth to the twins Apollo and Artemis of the Greek pantheon following her union with Zeus. The most important cult centre of this mother goddess of Anatolia, especially of the Lycian origin and her two children is the Letoon sanctuary close the Xanthos, where each have a dedicated temple.
This cult was also adopted in Caunos, which was located on the  Lycia-Caria order. The inscription on the Quintus Vedius Capito monument at the west end of the Caunos stoat states that this person was at the same time "the priest of the sanctuary of Goddess Leto and of the fountain in it." On a stylobate that was found in the vicinity of the Sultaniye Thermal Springs in 2000 and that was dated back to the late 2nd- early 3rd century CE, probably belonging to a large group of statues, the name of Flavia Maxima, granddaughter of Quintus Vedius Capito, is mentioned. These archaeological proofs indicate that the location of the Caunos inhabitants' Goddess Leto sanctuary was the thermal spring of the Sultaniye and that the priesthood of this sanctuary was hereditary (Öğün-Işık, 2001).
The ruins of the ancient buildings surrounding the thermal spring that have slipped onto the lake bed as a result of earthquakes indicate that a spa connected with this spring was erected and was enlarged with the addition of new buildings through the centuries. The last stop on this long therapeutic break during which you are covered with clay before taking a shower and then ultimately relax in the pool to loosen your muscles and joints is the café. The information you receive while having a cold drink or tea served in Turkish-style "slender-waist" glasses while watching the young fish in the lake water will put a smile on your face. The Sultaniye Spring has a temperature of 40 degrees centigrade and is especially enriched with Radon at an 43 shock/Avp level: good for rheumatic pain, arthritis and muscle fatigue, rejuvenation of the skin and eases blood flow by dilating the vessels.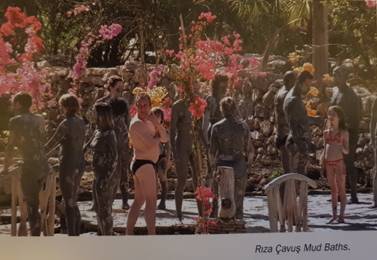 Your boat that awaits you on the concrete jetty of the bathhouse so that you resume your journey into nature and history then passes by the slender reeds that ornament the shore and brings you to the lake's exit at the Calbis (Dalyan) River.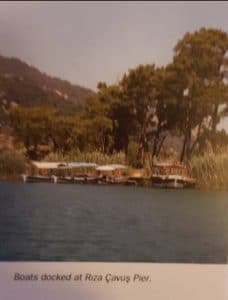 Source: Koycegiz – Dalyan A Journey Through History Within The Labyrinth of Nature, (pages: 36-39), Altan Türe, 2011, Faya Kültürel Yayınları