Cutting through the water to the accompaniment of the rhythmic sound of the engine, your boat takes you to the Sultaniye thermal springs, where  Ölemez Mountain reaches the shore of the lake from its steep peak crowned by the walls of the Imbroz castle built by the inhabitants of Caunos. According to a legend connected with the name of this majestic mountain covered with the dark green of Turkish Pine forests, Lumen the Wise came here while in search of the herb of immortality and while taking in the vice, he said: "One could not die here even if one wanted to."
TIP – You can visit Sultaniye thermal spring and mud bath on our Private Jimmy's Island trip.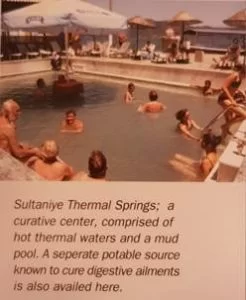 The green water with a sulphurous scent that seeps out of a crack from a rock right beside the present thermal bath, is built on a square plan and covered with a dome, in which the hot therapeutic waters are located. This spring then moves into an open air which afterwards discharges into the lake. The pool mud bath situated on the other side of the thermal spring is another opportunity to feel connected to the earth in a healthy and pleasurable way Those who believe in the magic of this mud formed of the mixture of clay and the thermal water containing radioactive elements and other minerals think that the mud they cover their bodies with makes them at least 10 years younger.
They will sit beside the pool like clay statues as if they were part of an ancient ritual. Maybe these rituals that ate back to Antiquity are an extension of ceremonies in which the faithful asked for health from the deity. The ruins of buildings in the thermal spring area ranging from the archaic period to at least the Roman era indicates that the treatment facility and beliefs connected with it date back to the first  settlements in the region.
Source: Koycegiz – Dalyan A Journey Through History Within The Labyrinth of Nature, (page: 35), Altan Türe, 2011, Faya Kültürel Yayınları