Cappadocia is a vast region between Ankara and Malatya. At its centre lies Kayseri, once the heart of the Hittite empire.
Today, Cappadocia is one of Turkey's most popular tourist destinations, with thousands visiting the strange and enigmatic moonscape. Although the area appears barren, the mineral rich volcanic soil is very fertile. Cappadocia and the surrounding area are a prime agricultural region with many fruit orchards and vineyards. Cappadocia is also famous for its pottery and carpets but the major source of income is from tourism.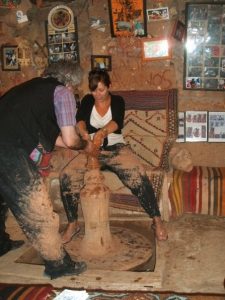 People come from all over the world to experience the Goreme Open Air museum, explore the churches and dwellings, wonder at the fairy chimneys and burrow into the vast underground cities.
The history of Cappadocia began with a number of huge earthquakes. The eruptions covered the land with a thick layer of volcanic ash. This hardened into a porous stone called 'tufa'. Over many generations the natural erosion by wind and rain has worn away sections of the 'tufa', this has resulted in the weird and wonderful landscape you will experience in the valleys of Cappadocia.
Because of the nature of the 'tufa' it was easily manipulated with primitive stones. Indeed, when you touch the stone today it feels like a hardened sand castle. It was the perfect solution, dig out a small cave, if your family expands simply dig out another room.
When invaders flooded into ancient Turkey the Cappadocians moved underground and carved out vast cities. The whole area is littered with these cities and often the only clue is a small opening in the ground. If you are brave enough to descend the scene will take your breath away. The entrances were often very small so that invaders had to stoop to enter, thus slowing their progress and enabling the natives to mount an attack. The ingenuity of the dwellers was incredible, tiny doorways, steep steps, even slopes where large boulders could be rolled onto unsuspecting invaders!
When Christianity arrived in the region the early Christians found that churches could be carved as easily as dwellings. Many still exist today, complete with elaborate and beautiful frescoes.
When the Arab armies swept through in the 7th Century the Christians merely moved back underground, secure in their caves protected by a large rolling stone across the entrance.
Many of the locals still live in cave houses and some of the best hotels are carved out the rocks. It is an experience you won't forget. Cappadocia is a magical place, I guarantee you won't have seen anything like it before.
TIP: If you like horse riding or have never riden before and would like to, you can join one of our Dalyan Horse Riding tours: