The busy town of Fethiye is only an hour away from Dalyan. It is situated in a pretty bay surrounded by steep mountains and pine forests. Within the bay there are numerous islands,
perfect for sailing around.
Fethiye
The town is rich in history with similar Lycian Rock tombs to Dalyan. Fethiye was known as the ancient city of  Telmessos. An excellent but small museum situated just off the main street. Pieces include Lycian pieces from the Bronze, Archaic, Hellenistic, Roman and Byzantine times. The outdoor area shows how much history there is. Piles of artifacts that are still waiting to processed. It's a great place to explore.
The Market
On Tuesdays there is a large market. Selling everything from fresh fruit and vegetables to clothes, handbags and shoes. There is also a very picturesque old bazaar. If you want something different this is the place to come. There are tiny art shops, jewelers and quaint clothes boutiques alongside little cafes.
The prom is perfect for wandering along, admiring the boats and a spot of people watching.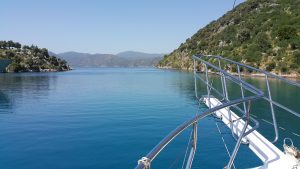 Just out of Fethiye, within the bay, the scenery is spectacular. Sweeping forests cling to the mountains and the best way to arrive in Fethiye is by boat from Gocek. You will reach your desination refreshed and relaxed before hitting the shops!