Ever wondered what those dried things are that hang outside shops and in the market? Dried aubergine shells, is the answer. I hadn't really taken much notice of them but I decided to explore and experiment!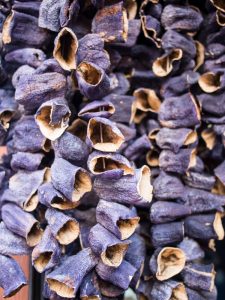 I have included a Turkish recipe below but these dried aubergines are fantastic as a carb free cannelloni substitute. Much tastier than pasta.
Ingredients
1 cup long grain rice, rinsed
15 dried eggplant shells
1 large onion, chopped
1 tbsp. tomato puree
400gr/14 oz. mince, lamb or beef works well
1 tbsp. olive oil (for the filling)
3 garlic cloves, chopped
1 tbsp. Turkish red pepper paste
1 tsp. ground cumin
2 tsp. dried mint
Salt and pepper
1/2 a tin of tomatoes
2 tbsp. olive oil (for cooking)
2 cups water
Yoghurt to serve
Turkish chilli flakes to serve
Method
 Blanch the aubergine shells in boiling water for a couple of minutes and then plunge into cold water to stop the cooking and retain the colour. Place into the baking dish.
In a large bowl mix together the mince, rice, onions, garlic, pepper paste, tomato puree, 1 tbsp. olive oil and spices. Season to taste. Knead with your hands to completely break down the mince.
Drizzle the remaining olive oil over the aubergine shells and then carefully stuff the shells. If you have them standing upright you can just tip the filling in. Press the mixture down but don't be too over generous as the shells can break.
Pour the water and any remaining filling around the stuffed shells. Place on the heat and bring to the boil. Once boiling simmer for around 30 minutes.
Serve hot with Turkish chilli flakes, thick yoghurt and a chunk of crusty bread.
The best place to buy these dried aubergines is at a local market. Koycegiz, Fethiye and Mugla will all sell them