If you fancy going all out on pancakes today then try these gozleme as your main course followed by yet more pancakes. You can kid yourselves that you are being healthy before you ruin everything with lots of sugar, chocolate spread and maple syrup!
To enjoy authentic Turkish gozleme you can try them on one of our
market trips
.
Mugla
, Koycegiz and
Fethiye
all have pancakes ladies cooking all day. Wandering around in the sunshine eating gozleme is a perfect holiday experience. Or try making your own on the
Village Life
trip.
Ingredients
4 cups 

plain flour

1 tsp 

salt

1 1/2 cups 

warm water

 
Filling
Oil

1

onion, finely chopped

1 tsp 

chilli flakes

2 cloves 

garlic, crushed

1 tbsp 

ground cumin

1 tbsp 

sumac (you can find sumac in most supermarkets these days, definitely Sainsburys and Waitrose)

500gr 

lamb mince

200gr 

feta

150gr

 spinach 

Handful of chopped flat leaf parsley
Directions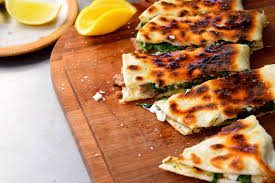 Mix together the flour and salt and then gradually add the warm water. You should end up with a firm dough.
Knead dough for about 5 minutes until it is smooth and feels elastic. Return to the bowl and cover with a clean tea towel or clingfilm to stop it drying out.
In a large pan fry the onion and garlic in the oil. Cook until golden brown but be careful not to burn. Add the spices and cook for another minute or so. Add the mince and cook until nicely browned.
Return to the bowl and leave to cool for 15 minutes.
Add the feta cheese, parsley and chopped spinach and season. Be careful with the salt, the cheese can be very salty.
Divide dough into 6 pieces and roll out. You want the pancake to be roughly 30cm. It doesn't really matter if you go for squares or circular.
Spread some of the filling over half of your pancake. Fold over the other side. Fold and then seal the edges with a little water.
Heat a large frying pan.
Brush your pancakes with a little oil
Fry in the pan until crisp and golden. Serve with wedges of lemon.