Patara was a major trading port of the Lycian era, situated at the mouth of the Xanthos River. As so often happened the river silted up, meaning that Patara became located further from the sea and surrounded by marsh land. 
Not good for a port but brilliant for today's wildlife. The Patara area is a national park and extremely rich in bird life. Below is a list from a recent bird watching group
Little Grebe, Bittern, Night Heron, Little Bittern, Little Egret, White Stork, Grey Heron, Purple Heron, Glossy Ibis, Honey Buzzard, Short-toed Eagle, Bonelli's Eagle, Marsh Harrier, Montagu's Harrier, Spotted Eagle, Lesser Spotted Eagle, Goshawk, Long-legged Buzzard, Golden Eagle, Osprey, Lesser Kestrel, Kestrel, Saker Falcon, Lanner Falcon, Peregrine Falcon, Hobby, Water Rail, Moorhen, Coot, Mallard, Garganey, Red-crested Pochard, Little-ringed Plover, Ringed Plover, Black-winged Stilt, Redshank, Greenshank, Marsh Sandpiper, Green Sandpiper, Wood Sandpiper, Common Sandpiper, Yellow-legged Gull, Wood Pigeon, Collared Dove, Turtle Dove, Alpine Swift, House Martin, Swallow, Red-rumped Swallow, Sand Martin, Kingfisher, Bee Eater, Roller, Hoopoe, Syrian Woodpecker, Middle Spotted Woodpecker, Crested Lark, Skylark, Tawny Pipit, Yellow Wagtail, White Wagtail, Rufous Bush Robin, Whinchat, Isabelline Wheatear, Black-eared Wheatear, Pied Wheatear, Northern Wheatear, Rock Thrush, Blue Rock Thrush, Blackbird, Mistle Thrush, Cetti's Warbler, Reed Warbler, Great Reed Warbler, Olivaceous Warbler, Olive Tree Warbler, Fan-tailed Warbler, Sardinian Warbler, Ruppell's Warbler, Lesser Whitethroat, Melodious Warbler, Willow Warbler, Blackcap, Spotted Flycatcher, Coal Tit, Blue Tit, Great Tit, Rock Nuthatch, Jay, Hooded Crow, Golden Oriole, Red-backed Shrike, Masked Shrike, Great Grey Shrike, Lesser Grey Shrike, Woodchat Shrike, Spanish Sparrow, Rock Sparrow, Goldfinch, Linnet, Corn Bunting, Reed Bunting, Yellow-vented Bulbul
Patara was the first place I visited in Turkey in the mid-nineties. It was then a tiny village and the vast ruins were barely visible beneath the sand.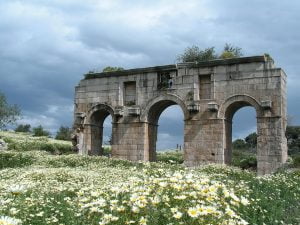 Many legends exist explaining the origin of the name of Patara. During the time of Lycia's Ptolemy domination, Ptolemaios II (reigned 285-246 B.C) re-named Patara as Arsinoe in honour of his wife. The name did not stick, however, and the original name was soon again in use.
Around 192 BC the Lycians at Patara were involved in a battle at neighbouring ancient Phoenicus (today's Kalkan) during the Syrian war against the combined forces of Rome and Rhodes. They were successful and the invaders were forced to leave.
In Christian history Patara is famous for being a place of St. Paul's missionary work at the end of his third missionary journey on his way to Jerusalem. Patara was also the birthplace of St. Nicholas (born c.260-280 AD), bishop of Myra and the future Santa Claus. Indeed, the pension I stayed at in Patara was called the St Nicolas pension!
In the 7th Century the Arabic fleets destroyed the naval bases of Lycia and Patara struggled to maintain its elite status. Patara was eventually reduced to a small village. The townspeople were forced to retreat to a small area on the edge of the harbour and to build walls to create a protected inner port; by this time the city was very much shrunken. Written records of the 9th century show that while Patara was still an important place, it was a village. In the 10th century is became a naval base of the Byzantine Empire. Its port is reported to have been used through at least the 15th century. Church and chapel excavations point towards even greater shrinkage of the village and an increase in poverty. Eventually, with too little manpower to keep the sand out of the harbour, it silted up, became plagued with mosquitoes and malaria.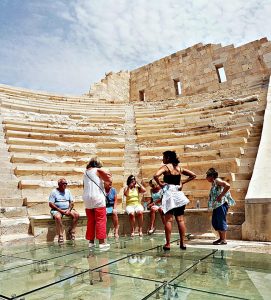 Much of Patara remains undiscovered, buried in the shifting sand, including the famous Temple of Apollo. However, some very exciting excavations have been going on revealing many structures previously hidden by the dunes. Among them, liberated from the many hundreds of truckloads of sand that covered it, is the parliament building where the elected representatives of the Lycian League met. It has rows of stone seats arranged in a semicircle, the same arrangement used in the chambers of the American Congress. Another discovery is the remains of what may be the oldest lighthouse in the world.
All of this and much more can be seen on our Mediterranean Highlights trip.