As an avid reader and someone who thoroughly enjoys driving, longer car journeys to me either as passenger or vehicle controller are a real source of excitement as they provide a great opportunity to do these activities for a substantial period of time (try not to mix the two though that doesn't tend to end well ;)) So when the VA HQ gang decided to head out on a road trip and trial the ideas we had for Reflections of Taurus I charged my iPad and got ready for some serious novel indulgence as we knew the initial leg of the journey would take us around three hours to complete.
How wrong can one person be. I probably got through no more than two chapters of my book (as we were travelling through Ortaca out towards Göcek) before my eyes were permanently transfixed on the breath-taking scenery that began to unfold before me. Driving through the Taurus Mountains roads is an experience I will never forget as long as I live. I've watched geography documentaries about mountains and seen Bear Grylls hanging off cliff sides with his teeth etc so you kind of think you've seen it all but nothing could have prepared me for the sheer exhilarating beauty that we were privy to. Situated on one of the high plateaus of Turkey, the mountains look like they have been dipped in icing sugar, the pristine white snow that sits atop them and gently cascades down like a cloak almost doesn't look real. But I can assure you it is.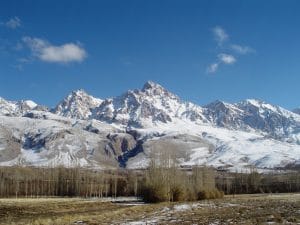 As you enter the town of Burdur you are greeted with the sight of the magnificent Burdur Lake – still and calm and reflective as a mirror. The glint of the morning sun bouncing off the surface is uplifting and really makes you realise how lucky you can be to see these things sometimes. The winding roads hold a new delight around every corner and the journey flew past much faster than I realised.
Quickly or not, seeing as it was now around midday the old familiar hunger rumbles had begun so as we followed the lake road slightly further along we stopped for lunch at Muhtar'ın Yeri which is just back from the road with a gorgeous view of the lake opposite and beautiful grounds and gardens at the rear. First thing that hit me as we walked in was the smell. Murat always jokes that there's no point in asking me if I'm hungry because the answer will always be yes and I've been known to sniff out a chicken nugget at 50 paces, but I just couldn't work out what this aroma was. Spices, meats, tomatoes, peppers, all of these mixed together in one and if we weren't hungry before we walked in we sure as anything were now! Greeted by a lovely polite team we were quickly sat at a beautifully laid out table and presented with a cup and saucer full of what I can only describe to you as the best soup I have ever tasted (and I eat a lot of soup). Warming, flavoursome and full bodied, accompanied by thick sliced home-made bread and butter – perfect. As if this wasn't good enough, next came the main dishes. Sizzling pans of beef and lamb cooked in secret recipe sauces were placed in front of us with mezzes, salads, rices, pickles, you name it and it was there.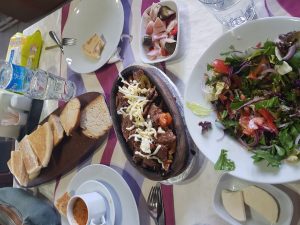 This food is outstanding and they have a very generous menu full of fabulous local dishes for you to choose from – fish and vegetarian dishes a plenty for those who prefer. I later found out that the Burdur region is famous for it's meats, and the neighbouring town of Acıpayam is known as the 'meat centre' of Turkey as it has one of the biggest livestock markets in the country. So no wonder these dishes are so superior to others I've had. We then managed to force down a selection homemade desserts (you need to try the Kazandibi – you'll thank me for it) and then staggered back to the bus to carry on.
So next stop on the agenda, the Lisinia Project. I'd heard the guys talking about it and had done some research myself but still wasn't entirely sure what to expect so went in with an open mind. It's really hard for me at this point to explain to you the sheer magnitude of the absolute brilliance of this place. It has so many strings to it's bow and every single one of them is focussing on the greater good for not only the local area, but the whole world! We were met at the door by Öztürk Sarıca, the veterinarian who runs the project who's passion and enthusiasm for the work he is doing just radiates off him from every pore. He's one of these people that instead of saying how good it would be to make a difference, is actually doing something about it. He gave us a guided tour and explained everything in operation to us which he will do for you too when you visit, but I'll give you an overvıew of the general ideas.
Firstly, Lisinia Project is a wildlife rehabilitation centre. A huge range of injured and unwell wild animals are bought here and are either nursed back to health and released back to nature, or if this cannot be achieved they receive their end of life care here until the time comes. Now when I say wild animals, believe me when I tell you I'm talking about wolves, wild boars the size of miniature ponies, jackals, red hawks, eagles, it's like a reunion of the cast of the Lion King in this place (minus the lions but hey, never say never)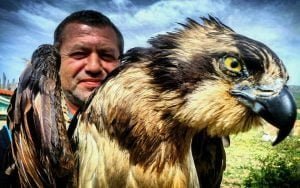 On the subject of animals, the second aim here is to increase the goat population as their staple diet is one that does not require a huge amount of water contribution, ergo saving water. The plants they eat for example are much dryer than those required by cows for instance, and they also feed on naturally grown herbs and flowers which also do not need massive water input to grow in abundance.
Thirdly, continuing with the theme of saving water, comes the lavender fields. Plants that have an essence do not need water to grow and survive. The only water they need is upon initial plantation for them to take root. The immense lavender fields you will see on the next leg of your journey is single handedly responsible for the rejuvenation of Burdur Lake. Many years ago this lake was at an all time low level and water in the area was extremely scarce as a result. The subsequent plantation of 400 hectares of lavender bushes in the nearby barren land area has now restored the lake to a record mass of water. Impressive don't you think?
Next is education. The Lisinia project offers totally free nature awareness training in schools and to date over 50,000 children hold the certificate of completion. Additionally, the project operates a world wide volunteer program where people from every corner of the globe can come and spend time working and learning about everything the project has to offer in return for board and lodgings.
Finally, and possibly most revolutionary, is the work being done into fighting cancer. Research has shown that the natural ingredient Likopen has properties that have been proven to stimulate cells in the human body that fight cancer. This ingredient can be found in selected fruit types if grown correctly and so not only does Lisinia actively grow as much of these fruits as possible, they also produce totally organic products incorporating the essences of Likopen that can be used to help the body ingest more of this potentially life saving component. Body creams, face creams and soaps are just a few examples of products made to do this – all of which are totally edible should you so wish (we had a taste of a body cream – pretty good you know!) They also make organic products from the lavender produced here too and the operational area where the processes are carried out are fully functional so you can go and see how it's done and join in if you want to.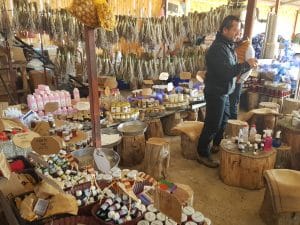 The Lisinia Project does not charge an entry fee or accept donations – the only money they receive is from the sale of these products so remember to take your purse with you!
So once we were well and truly humbled here we made the short journey to see these lavender fields for ourselves. When we got out of the mini bus, there in front of us as far and wide as the eye could see was over 400 hectares of lavender bushes. Even though it's still fairly early on in the season the first shades of purple were beginning to show themselves and the faint aroma filled the air around you like a blanket. In full bloom when you guys go there, it's absolutely magnificent. Almost overwhelmingly so. The planting of the bushes has been done so that everything is perfectly symmetrical and if you look closely you will see that they are grown in a pattern of five inter-connecting straight lines whichever way you view them – almost like a magic eye puzzle. With the backdrop of the mountains and the vivid shades of purple all around you, you feel like you're standing in a postcard, like the sort of scenery you struggle to believe is real. Well let me tell you a secret folks, it is.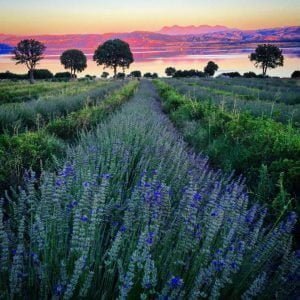 After taking a million photographs here, we jumped back in the bus and half an hour later we arrived at Salda Lake. For those of you who've not seen, heard of, or visited Salda Lake before, I think this picture gives you a pretty good idea of why it's known as the Maldives of Turkey (although we hate this nickname because it just doesn't do it justice). Geologically for those of you who are interested, Salda Lake has absolutely crystal clear waters and lifeforms within that are descendent from Mars. In 2008, the NASA Spirit rover captured images of unusual, cauliflower-shaped silica formations inside Mars's Gusev Crater that bear an uncanny resemblance to objects sculpted by bacteria living inside hot springs on Earth. Stromatolites are another type of formation that are prime real estate for extant life. On Earth, these layered rocks are created in shallow water by microbial mats—wafer-thin colonies of tiny organisms held together by a mucus-like substance. The mats act like flypaper, trapping sediment. Layers gradually accumulate as the organisms repeatedly push their way upward through the silt. Salda Lake is one of only two places in the world that these formations can found.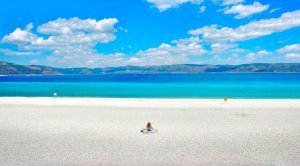 Salda Lake not only has the cleanest water in Turkey but the 5th cleanest in the world. It is also the deepest in Turkey and 2nd deepest in the world, with water temperatures never falling below 17 degrees. Another of the unique attributes of the beach surrounding this lake is the variation of sands that can be found leading down to the water. They range from natural mud closest to the road side through to perfect white sands nearest to the lake.
TIP: If you enjoy your time spent at Salda Lake you will love our Supernatural Salda trip for sure.
So we sat on the gorgeous beach by the lake, enjoyed traditional pide and clay pot cooked local fish from the pide house just next to where we were and had a glass of wine as potentially the most glorious sun set I have ever seen performed it's act for us. Times like that you have to stop and take stock of the moment you're in and appreciate with every inch of your being what you have in your life and how lucky you are to have it.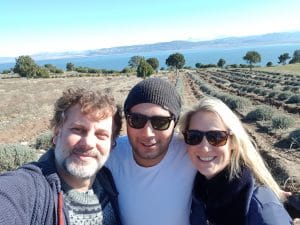 Sunset done and we decided to head back home. Safe to say I decided to rest my eyes for a minute and woke up as we pulled up outside our house! The whole day today was eye opening, humbling, almost overwhelming in a way but I wouldn't have changed a second of it and I promise you with my hand on my heart, neither will you.
Love Lisa
xx