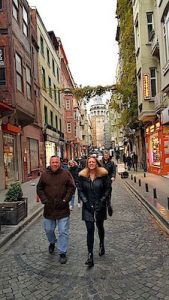 I finally arrived home this morning around 5.30 am after a long journey from Istanbul. I have been gone since I left Dalyan on Christmas Eve and went to Istanbul to meet with my lovely friends Alan and Sunny from Scotland and my brother Leigh and his lovely lady Sandra from England. We were all to meet in Istanbul to spend a week together and celebrate NYE together. We had a fantastic week and of course again with a sprinkle of adventures 🙂 Being a tour guide who still gets lost even in Dalyan, you can guess how adventurous we were in Istanbul. This is a topic for my next blog but you will have to wait couple more days for reasons i will explain below in a little bit. I am finally back to Dalyan but this time Dalyan came with its good, bad and ugly.
My plane was due to depart from Sabiha Gokcen Airport at 19.20 pm to Dalaman. I didn't sleep that night because I usually stay up all night and sleep in day time during winter months, at least lately my schedule has been like that. I just took an hour nap before I packed and hit the road on a Metrobus (A public transportation system in Istanbul where busses use a designated lane) to Taksim where I would catch the shuttle bus to the the airport. I was at Taksim airport shuttle station right before 4 pm but because 4 pm shuttle was full, i got a ticket for 4:30 pm. If there is no traffic, this is about 45 minutes ride but with Istanbul's traffic, it can take 1,5 hours or even 2 hours during rush hour. Even at worst case scenario I would have made it to the airport before they close the gates.
Unfortunately it didn't work that way. It was so foggy outside all day and all ferries were cancelled on Bosphorus line. Because there was also a derby football match between Besiktas and Fenerbahce, everyone rushed to the Bosphorus Bridge to go to Fenerbahce Stadium as ferries didn't work. By 7 pm, we still hadn't crossed the bridge. It took us 3 hours to cross the Bosphorus Bridge that would normally take 20 minutes at max. Therefore everyone in the bus were at the merge of missing their flights or already missed, including overseas travellers. Being the only geek in the bus with his Apple notebook and internet dongle, i transformed into the Super Travel Agent i am, and tried all possible ways to help people who were devastated all for their own reasons. For me it was not that big of a deal because I knew ı could go by overnight bus so focused more on people with much bigger worries.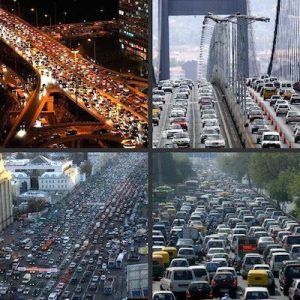 Regardless of how, I had to make it to Dalyan as quick as possible because my friend and a great block Peter wasn't feeling so good and wanted to get checked at hospital. When Leigh told me and asked if I would help finding the right hospital and perhaps help Peter get there, I was keen to get to Dalyan asap and get Peter to docs. Our plans were to meet in the morning and I was worried because as far as I know Peter, he doesn't complain easily. So it must have been something very serious and urgent. I let Leigh and Peter know that I missed my flight but I will still be there latest by morning.
When we finally arrived at the airport, everyone rushed out of the bus, pushing each other to get their luggages with hopes that their flight may have been delayed due to heavy fog. Many flights were delayed throughout that day and I was following them for people in the bus. Actually almost all flights were delayed but mine. Looking for alternative ways to get to Dalyan, there were no more flights to Dalaman or Bodrum that night. Just as I was looking for busses to Ortaca, Mugla or Izmir, I noticed 20.30 flight to Izmir was delayed to 22.00. Just as i was starting to feel my luck had turned, the lady at the ticket office told me that even though flight is delayed, the doors are closed and they can not issue a ticket for that flight anymore. Not only that but I also realised I left my new book that was going so well at the airport shuttle and even though I was so tempted to go out and find my book, I couldn't afford missing one more flight.
As they say, its not what you know, its who you know 😉 I asked help from 2 of my friends who work at the airport and Pegasus Airlines and there I was flying to Izmir, a much closer place to home. From there i could walk to Dalyan if I had to. For information of those who think Dalyan is close to Syria, Izmir is way closer to Dalyan than syria is and I could actually really make it to Dalyan before the season starts if I walked 🙂
Anyways, it was easy to find a bus from Izmir airport. I caught the shuttle bus to Aydin. After 1,5 hours ride we were in Aydin bus station and by than i was hungry, tired, thirsty and wide awake. Season is coming close with all its excitement and with a bit of worries this time. Well i think worrying has became part of our lives these days. However than again, life is beautiful for those who have things to worry in their lives. All that has been going around the world with terrorism, war and senseless hatred makes me closer to those i care for, to values i hold and makes me more hopeful actually. Terrorists are people with nothing to loose, nothing to care for and no one cares for them. I would not trade a moment of my worries for a life of those miserable bastards. However it is obvious that Turkish tourism will suffer from the side effects of the war, wrong politics and misinformation. As inevitable as this is, so is the necessity to do something about it. So my mind doesn't stop but thinking, planning, worrying, hoping and working. Its good.
I was able to get a bus from Aydin to Ortaca at 2.30 am and i finally walked into my apartment at 5.30 a.m. only to find my water service was cut because I didn't pay my bill. So where I am coming is you need to book more trips 🙂 Being more serious, the water utility billing has always been quite complicated in Dalyan but since after decision of central management and moving everything except water services to Ortaca, its even more complicated now. I didn't receive a bill whole year and the bill i got now has months from late 2014 (when i was not a tenant in this apartment) and past 4 months! I overslept because Dalyan had a power shortage in the morning and my mobile phone was never charged so alarm did not go off at 10.00 a.m. when i set it for.  I throw myself out from the apartment so I can pay the water bill, pick Peter and go to Fethiye. If all goes well, my plans for when we get back were to visit my dear friend Rosemary's apartment she recently purchased. I had helped her find it but i actually had never seen it yet, so i was so curious and looking forward to seeing her new place in Dalyan. Because she is not here now, Rosemary asked me if I could take some pictures when i was at the apartment to send her so she can use them on owners direct as she plans to rent the apartment during months she will not use it.
First thing hit me when i walked out was the heat. I had a long sleeve thin jacket on and i had to take it off immediately. It was nearly 30 C outside. Warmer than it gets in may and in early June. Everyone was walking around with shorts and t-shirts. As I walked from my apartment to Peter's, walking pass by Migros and Jiks, I noticed almost tables were full at the tea garden in mosque square. People were passing by, riding their bicycles, carrying buckets of paint and work was going on in almost every shop I passed by. Dalyan is awakening, spring is here and soon it will be complete when people who love Dalyan starts to arrive for holidays.
I picked Peter and his girlfriend Oksana and we drove to Fethiye Esnaf Hospital. The service at the hospital was great. They have an international department where multilingual customer reps speaking all major languages. No waiting at all and soon Peter was checked in at Cardiology service for ultrasound. News were not so good. He needed immediate attention as ultrasound results were suggesting he has  %30 heart failure and he needs an immediate angio.
We got an appointment for angio at Antalya Memorial Hospital, which has a great reputation with its cardiology service for 11 s.m. tomorrow (Tuesday) To make his appointment at 11 am, we planned to leave Dalyan at 5 am in the morning.
We returned to Dalyan to prepare our bags as we could be staying in Antalya for couple days or more. While Peter was talking with his insurance company and arranging his work and friends for upcoming events, I went to find Rosemary's truly beautiful apartment in Gulpinar. Newly build apartment situated in a really great area, open views, only 4 apartment small complex. I have taken some pictures and sent to Rosie before I met with Peter and Anil his friend.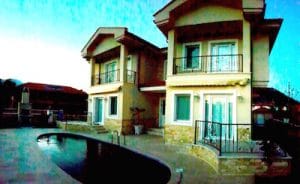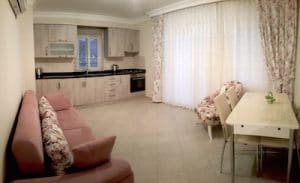 It was almost midnight when I got to Jiks to meet with Peter and Anil. Everyone agreed that it would be easier if Anil and Peter's girlfriend, who flew in from Ukraine, would take Peter to Antalya instead of me. Therefore i gave all the information from Fethiye hospital and insurance company to Anil and went home to take a shower and get some sleep. He is in good hands now and will be in good hands in Antalya Memorial Hospital.
So I am here now and anxious to get out, get my hands dirty helping Mesut prepare his boat for the season, getting my office ready, new catalogues and boards are coming out good but needs final tuning, gotta go fishing and our team is getting stronger which i can not wait to introduce them to everyone… I will be busy with all these and I will enjoy updating you about all that is going on here.
As I said in the beginning, this time coming back to Dalyan had its good, bad and ugly sides.
The ugly was the traffic mess in Istanbul, having no water at home and tiredness.
The bad was the news with Peter
And the good is Peter is in good hands now and Rosemary has a beautiful apartment, Dalyan is warm, beautiful and welcoming as it is and we all have great friends and bright future to look forward to.

P.S: As I am about to post this, I got news from Antalya. Peter just received his angio results and he will not need an operation :yahoo: His inter vascular system is working fine, but some laziness in his heart muscles. With a good diet and some exercise, he will be great 🙂
*Pictures of Dalyan are from today (Tuesday), much cooler and cloudier than yesterday but much better day with news from Peter.
**Also Istanbul traffic pictures are just pictures i collected from other blogs to represent the traffic in Istanbul.
See you all ver soon, Volkan
—————-
"Let the beauty we love be what we do. There are hundreds of ways to kneel and kiss the ground." (Rumi)